If you know me, you know I'm a little bit of a pizza lover...I would have no problem eating it like 5 times a week, as long as it's good pizza, with an occasional Little Caesars thrown in there.
A few weeks ago as I was browsing through my food blogs, I came across a recipe for
Margherita pizza.
..
with a tomato cream sauce
.
MIND. BLOWN
.
Angels and hallelujahs and divine light beacons ensued, obviously, because here's a little-known fact about me: I LOVE CREAM SAUCE. Most of my favorite recipes include some kind of cream sauce, and it's much more than a coincidence. It just is. It's fate.
So. Go to a farmer's market. Pick up some cherry tomatoes, pull some basil leaves from that plant you somehow kept alive for a few days, and let's do this thang.
A few must haves to make this pizza what it is:
1. Cherry tomatoes. Roasted. They must be roasted. Slice those puppies in half, then toss them with a few tablespoons of olive oil, a few teaspoons of sugar and a pinch of salt. Put them in a 350 degree oven for about 40 minutes and they will be so beautiful and delicious you'll want to cry. But don't. Set 'em aside, ok? Just do it. (and toss them a few times while they're roasting- just trust me on this one)
2. Although the original recipe doesn't call for it, PLEASE use fresh corn on the cob on this pizza. I tried this once at a place in Berkeley and.....You will eat it and then die from food happiness, and then want to leave heaven because you want to eat the whole pizza that's back on earth. Take a cob or two and cut the kernels right onto the pizza....and let the foodgasm ensue. Let's just call it like it is.
3. Finally, don't waste your time with the dried basil crap. Margherita pizza would not be Margherita pizza if fresh basil leaves were not used. Just do it, and don't argue. Go find some and pay the ridiculous price of it. (side note: my mom and I got a Margherita pizza once and she asked what all the "lettuce" was doing on her pizza. And then I told her it was an herb...basil.....like, only my favorite herb in all the world...? She still calls it lettuce).
I know I'm being pretty demanding so far with this pizza, and you make be thinking to yourself....
Whoa. All this work for a damn pizza? Heck to the nah.
Trust me. Just....just trust me. ok? Hand to the man and swearing on my retired blinged-out neck brace, it is worth it.
And while I'm being demanding, one more small request: make your own dough. I'm telling you, it makes a difference. I like
this recipe
for last minute decisions, and
this one
for those rare times when I plan ahead. Also, a preheated pizza stone does wonders for every tastebud involved here.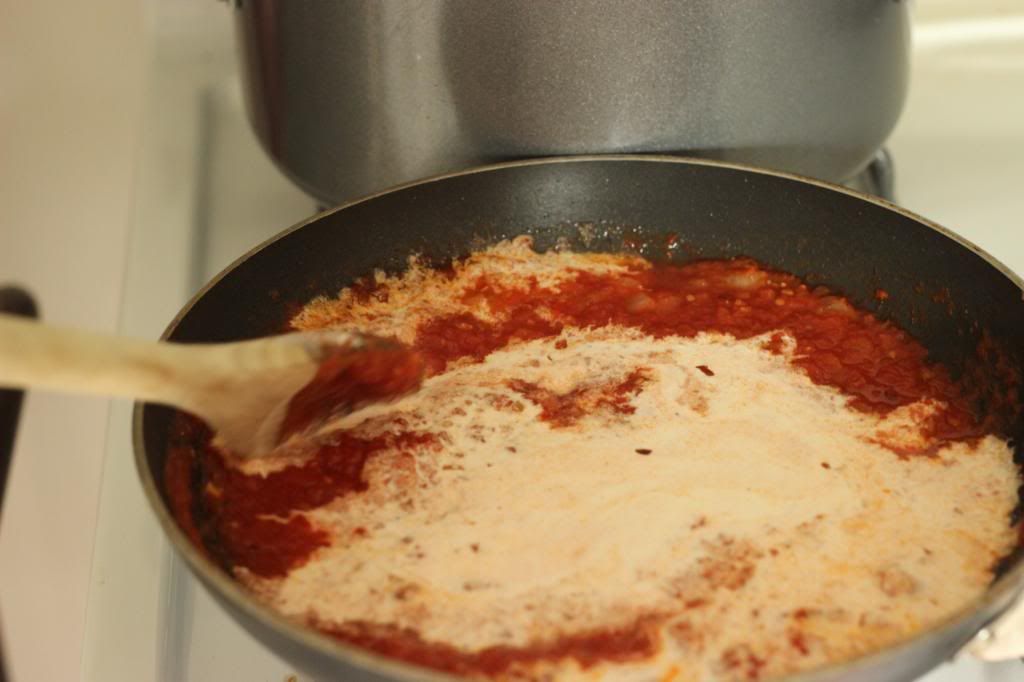 And then, cream sauce it up. Isn't it gorgeous?

Preheat pizza stone, assemble and apply heat.
Bam.

The Make-It-Three-Times-In-One-Week Pizza is born


Here's the handy dandy recipe, peeps.
Adapted slightly from Annie Eats
For the sauce:
1 1/4 cups drained whole canned tomatoes, liquid reserved
1 Tbsp butter
2 Tbsp minced onion
2 tsp tomato paste
1 clove garlic, minced
1/2 tsp red pepper flakes (more if you like a kick)
salt and pepper to taste
1/4 cup heavy cream
Add the canned tomatoes to a food processor and puree until smooth. Add a little bit of reserved liquid if need to smooth the mixture out. Melt the butter in a medium skillet over medium-high heat. Add the onion and cook about 1 minute, until it begins to soften. Stir in the tomato paste, garlic and red pepper flakes and mix for 30 seconds until fragrant. Stir in the tomato puree, lower the heat and simmer for about 5-8 minutes. The sauce should be slightly thickened. Season with salt and pepper. Remove the pan from heat and stir in the cream.
To assemble:
pizza dough for one large pizza
1-2 ears of corn, kernels cut off
6 oz of mozzerella cheese, shredded
A little grated Parmesan cheese
your very own roasted cherry tomatoes
1/2 cup fresh basil, coarsely chopped
Preheat your pizza stone at 500 for at least 30 minutes. Flatten your pizza dough into a 12-14 inch round. Lightly brush the crust with olive oil, and then spread an even layer of the tomato cream sauce. (you may have extra, and that's ok! It's great to eat with a spoon). Sprinkle the corn over the sauce, layer on your mozzerella cheese, sprinkle with Parmesan, and dot the roasted tomatoes over the top. Transfer the pizza to your preheated pizza stone and bake until the cheese is melted and bubbly, about 10-12 minutes. Remove from the oven and sprinkle basil over the top.