Our second day in Monterey was really amazing. The thing I was most excited about this vacation was my opportunity to not be woken up by that incessantly loud and cute alarm called Vivian.
So, I was so excited to sleep in...and so we did. We slept in late....well, ok, we actually didn't. Unfortunately I am now programmed to wake up at the exact time my baby wakes up, even if she isn't there.
Ugh!
I hate when that happens.
Anyway, we didn't sleep in, but then we went into the little dining room of our bed and breakfast where we had an amazing home cooked breakfast waiting for us. We ate as much as we wanted, took our time, I didn't wear a bra to breakfast and we stayed in our pajamas just because we could.
Luckily, we have
some awesome friends
who lent us their member passes to the Monterey Bay aquarium. We didn't have plans to spend money to see the aquarium, but when they so graciously lended their passes to us, we could give up our opportunity to go for free. (SO NICE OF YOU GUYS, AGAIN! THANKS!). So, we did. We headed to the aquarium, and we were so glad that we did. It was AWESOME.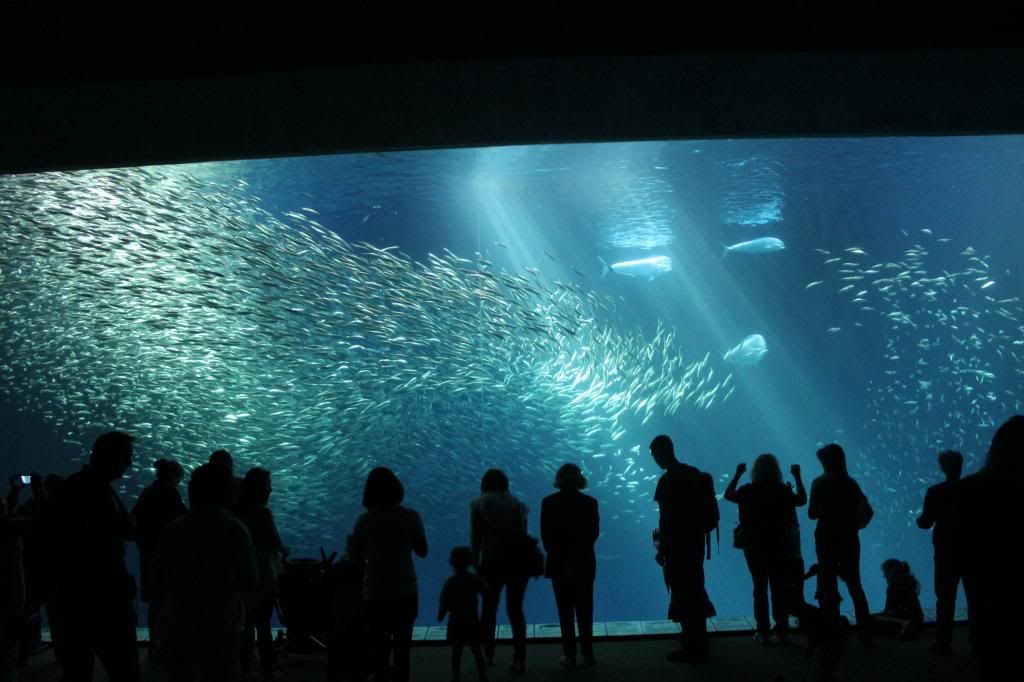 The ocean freaks me out, but what an amazing place it is! The creatures swimmin' around in there are so cool. Our favorite things to look at were all of the jellyfish and the tiny little sea horses. We really couldn't get enough of them and spent most of our time there. We even saw seahorse that was small enough to fit on a penny. WEIRD.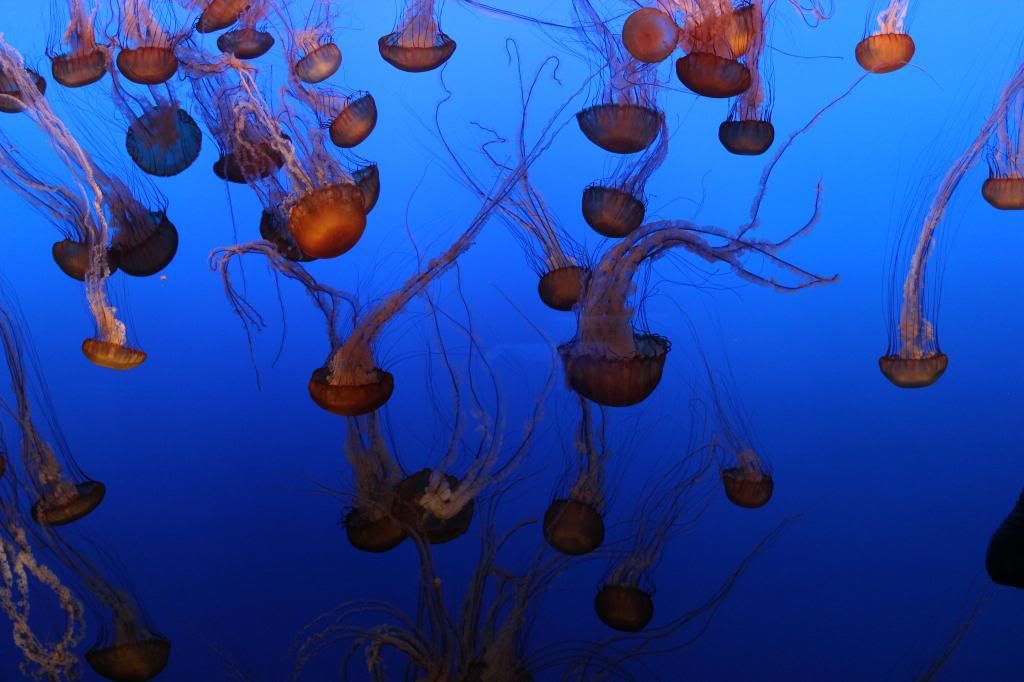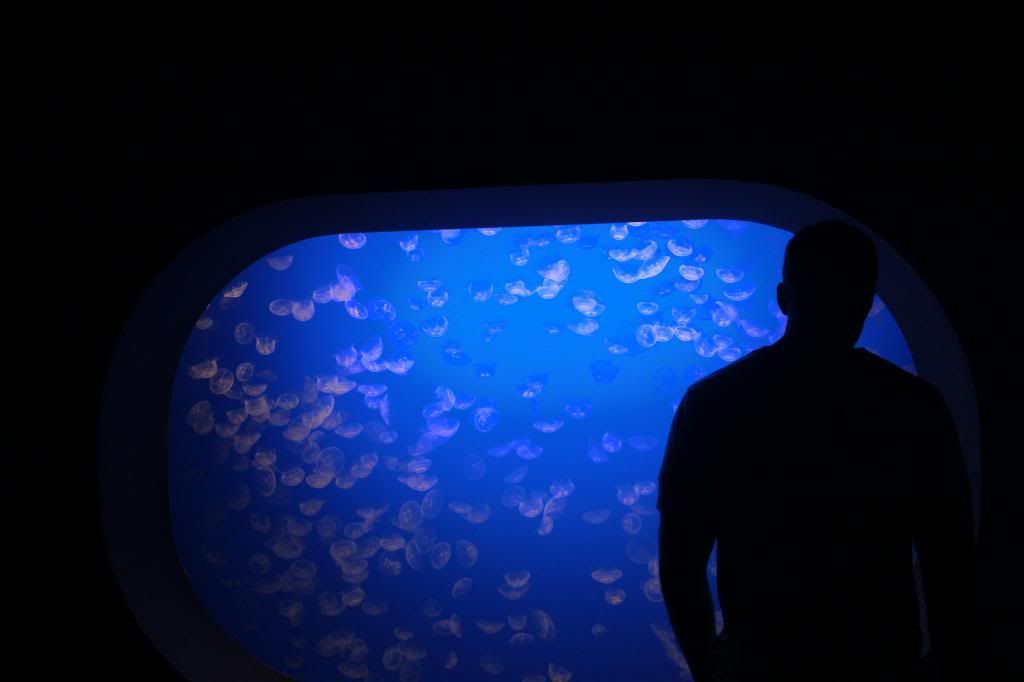 And Sea Dragons...did you guys even
know
that those things existed?! They are SO COOL.
We accidentally spent most of our day at the aquarium, but we wanted to take a drive and see all of the beautiful scenery that Monterey is so famous for before we had to head home. After running a couple errands, we paid the fee to drive the 17-mile drive, and it was totally worth it. We kept stopping and marveling at the white sandy beaches and clear, turquoise water. Dale kept saying how he never suspected that these beaches could exist in California (and THAT is why we live here, people...and put up with outrageous government...and crappy schools...and ridiculous gas prices...and unrealistic cost of living....I guess...)
Before the drive, we picked up some sandwiches and parked ourselves on the first beautiful beach we came across. As we were sitting there enjoying the sun, we noticed a few little fins a little ways out in the water. We watched for a while and realized that a group of dolphins were playing! We watched them for so long, because DOLPHINS you guys. I love them.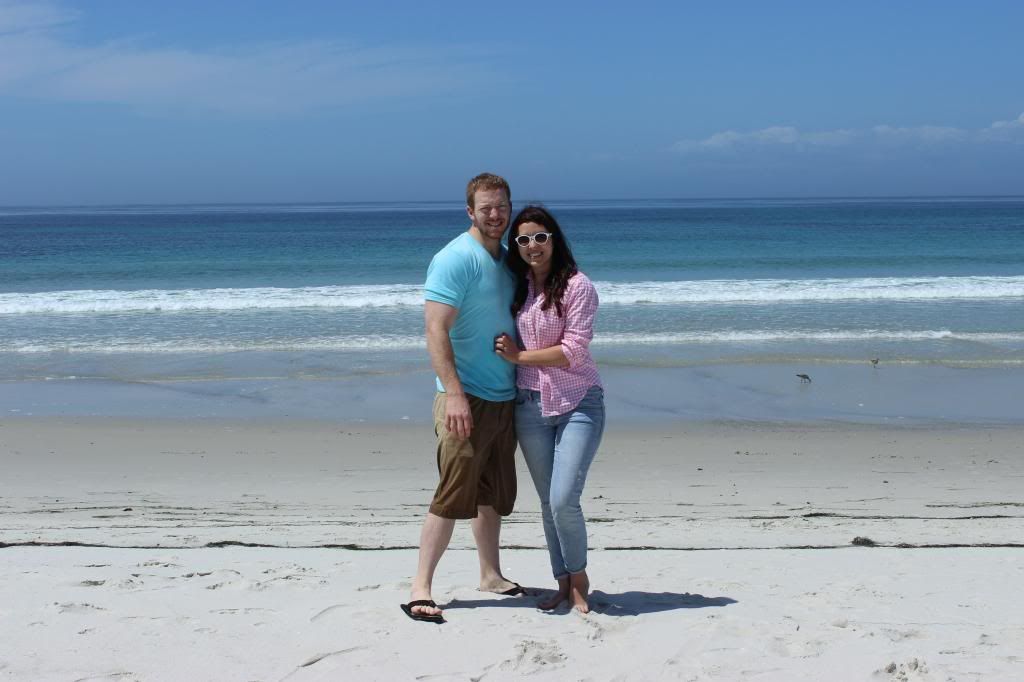 We headed off and started on the rest of the drive, only to stop at two more little beaches. The water here was even more amazing, and the jutting black rocks were in perfect juxtaposition to the tropical water. We just could not get enough of the beauty of the place.
We ended up staying at these beaches so long that we left later than planned. By the time we were done, we had to turn around after 5 miles of 17-mile drive, and ended up getting stuck in the worst rush hour traffic ever. We suck.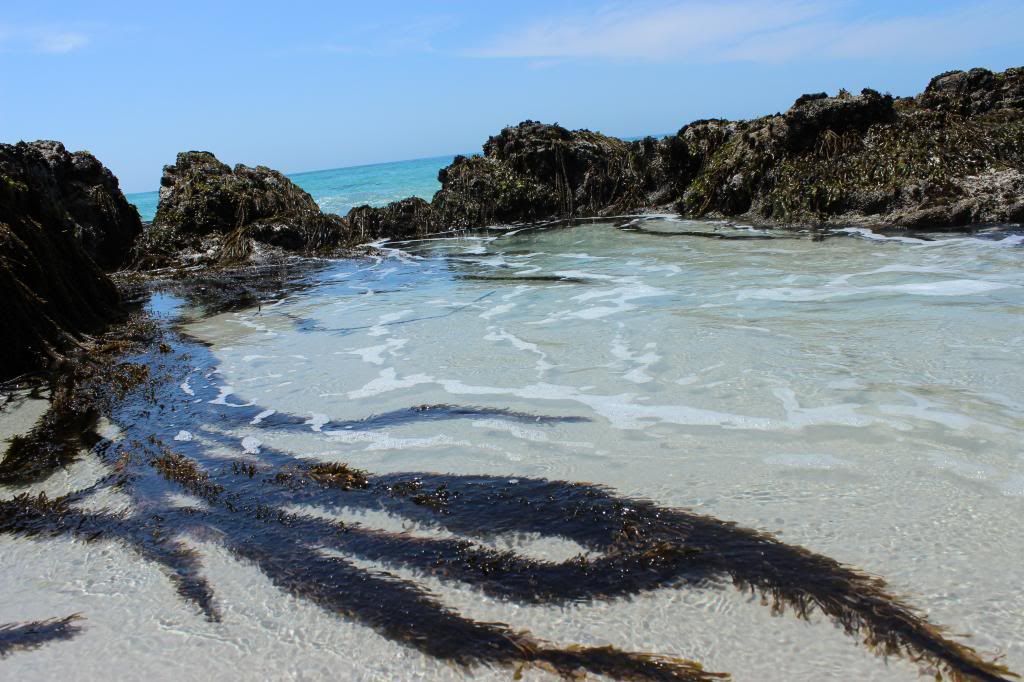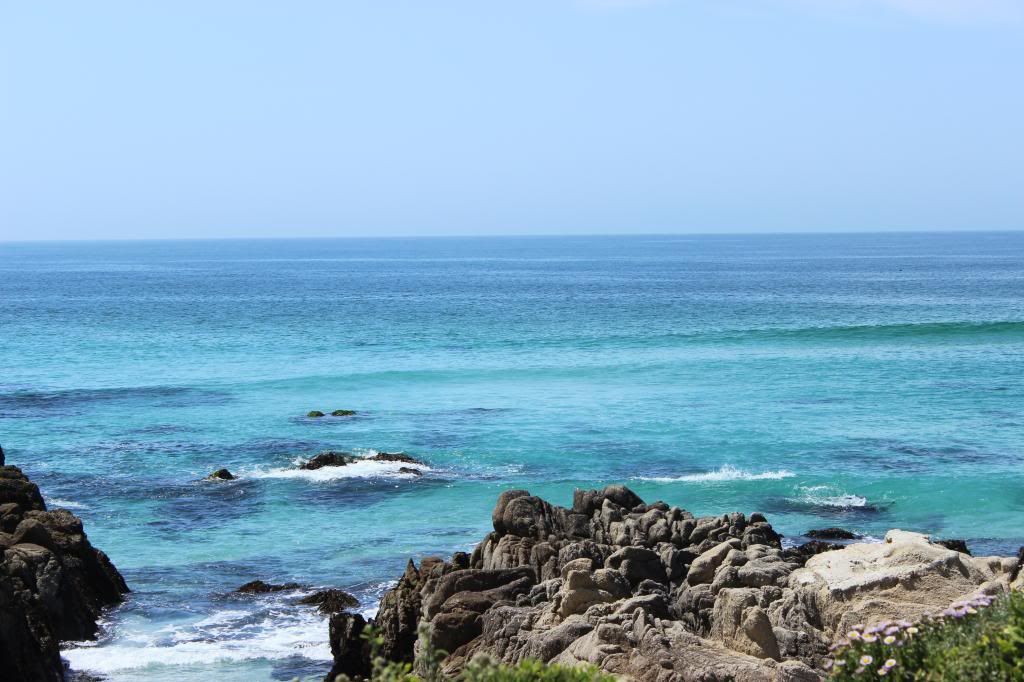 Anyway...that was our trip in a nutshell. I can't say enough amazing things about getting away from your kidlet and just doing your thang with your lover. You know? (not
that
thang...gross). I wish I could go back ASAP and stay forever. And always eat pizza, forever and ever, amen.