Remember how my baby has been alive for one whole year?
More importantly, remember how WE are still alive after this whole year?
Still boggles my mind, if I'm being honest.
So, in celebration of a whole year of wonderful, fun, baby life, we had a little BBQ party with a few of our friends to honor the cutest one-year-old around.
Instead of a themed party, I tried to think of what reminded me the most of Vivian in the past year, and the first thing that came to mind was colorful. And polka dots (I don't know why...but maybe because I'm obsessed with polka dots). Viv is vibrant and fun, and so full of life that a whole bunch of bright colors seemed fitting, so that's what I focused on!
Pretty colors, a few springy flowers, polka dot garlands (inspiration
here
. So easy and festive), lots of balloons and colorful funfetti cupcakes made up the aura that is Vivian.
Right as friends started arriving, Vivian was all gussied up in a cute birthday dress and her hair half done (I was running late, as usual).


The next thing I know, her cute little dress is soaked from a spilled bottle of bubbles and she is a sticky, orphan-looking mess.
Naturally, we stripped her down, slapped a bow in her hair and called it good. In hindsight, it's only fitting that she was running around in nothing but a diaper for her birthday party. I swear Viv has been naked for 3/4ths of her little life.
We opened some presents (she totally scored), and she was surprisingly interested in all of her toys. Her favorites right now are basically all of them, but she especially loves the baby dolls and that box of tissues her parents dropped some major cash to buy
(ps: best one year old birthday present ever--get a box of tissues. really).

some of our cutie friends:

and a spoiled little fashionista birthday girl: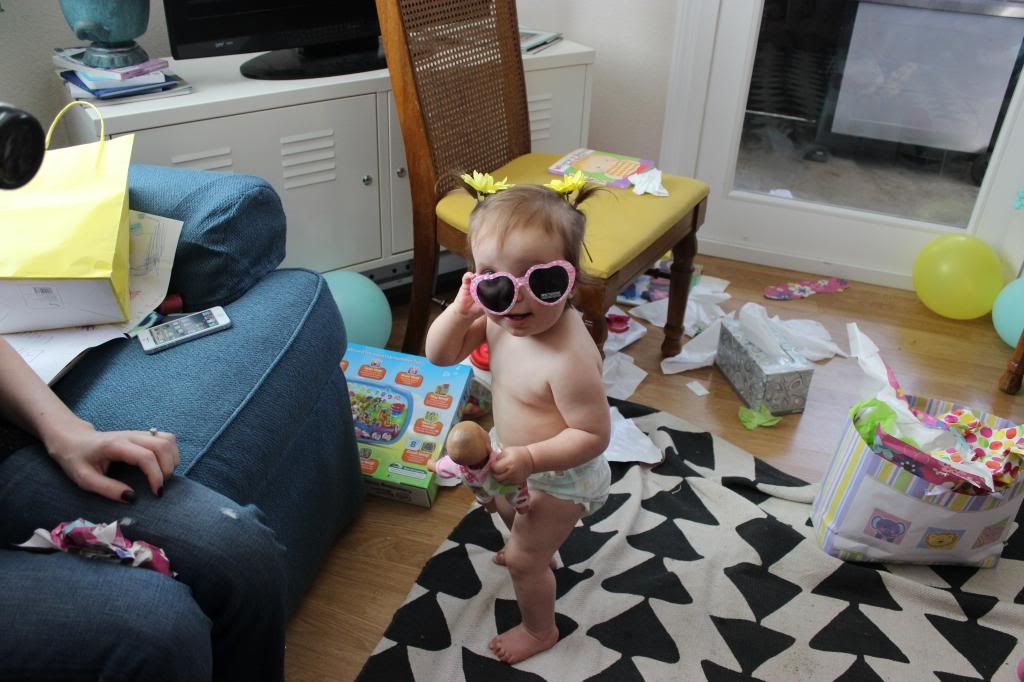 After presents, it was time for a little cake smashing action. Some of Viv's little friends gathered around her highchair and we all sang Happy Birthday..to which Viv was oblivious.
But then the fun began. I was so excited to see how she would react to having a whole entire cake to herself, and I'm glad to say that she did not disappoint. Without even hesitating, she dug right into that cake and started stuffing her face, handful after handful. It was the most hilarious thing I have ever seen. She was in sugar coma heaven! I guess a major sweet tooth must be genetic, because she is definitely our spawn.
Finally, after she literally ate most of the top half of her cake, we took it away, because she was still going strong, leaning back like she had all the time in the world to finish it. She totally knew it was her birthday, and I really think she would have eaten the whole thing if I would have let her.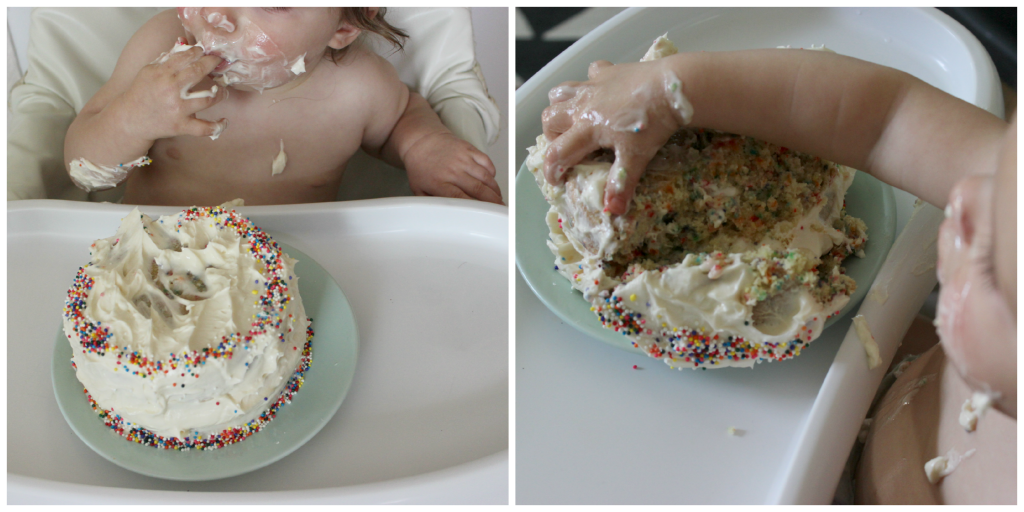 And for all the grandmas of the world, here is a few little video snippets, at your request. Sorry for the bad quality.



She puked three times the next day, but I'm guessing in her little head, it was worth it. Birthdays happen only once a year, right?
It was a perfect party, just the way we like it: low-key with some of our favorite friends and a little doll face to celebrate. Thanks to all who came, brought presents, squished like sardines into our tiny apartment, took pictures and supported our family. We love you guys!
Happy Birthday Vivian! We love you so!