The thing I love the very very most?
My little family.
Sunday's always remind me what is most important in my life, and every Sunday I am reminded of the mind-blowing love I have for my sweet little Viv. Seriously, she's the mac to my cheese. Whenever I'm down, she makes me laugh. Whenever I'm discouraged, she makes me see the bright side of things. Whenever I wear a white shirt, she makes sure to stain it. Whenever I pick up all of her books and put them back in her bookcase, she makes sure that I get enough exercise by pulling them all out again. She helps me put my make up on by pulling everything out of my bag and sucking on the brushes. She gives my hair lots of volume when she flips and pulls my hair. We are quite the team
Being a mom is like nothing I've ever experience before. It is the most challenging job I've ever had, physically, emotionally and mentally. But lately, I have been in love with the fact that I always have a little sidekick, and we get to go on lots of cool adventures together whenever we want. Our daily life is predictable. We have a routine, and most of that routine consists of playing, reading books crawling around and basically destroying the house and finding lint on the floor to eat. But the thing I love most is seeing the new things Viv discovers every day. I love hearing her try to mimic our words, pick up a comb and randomly start trying to comb her hair, finding my phone and putting it to her ear when we say hello, blowing kisses with the back of her hand, and figuring out how to pull her food out of her mouth and dropping it onto the floor just to see what I will do.
I used to think this life was boring. Now? I'd say I'm living the high life, counting my days in nap times and snacks to fill the bottomless pit that is Vivian. I really and truly find a deep joy in being a mother. Who woulda thought?
And then add this guy to the mix, and my heart soars straight through the roof, hits a martian and lands on Jupiter.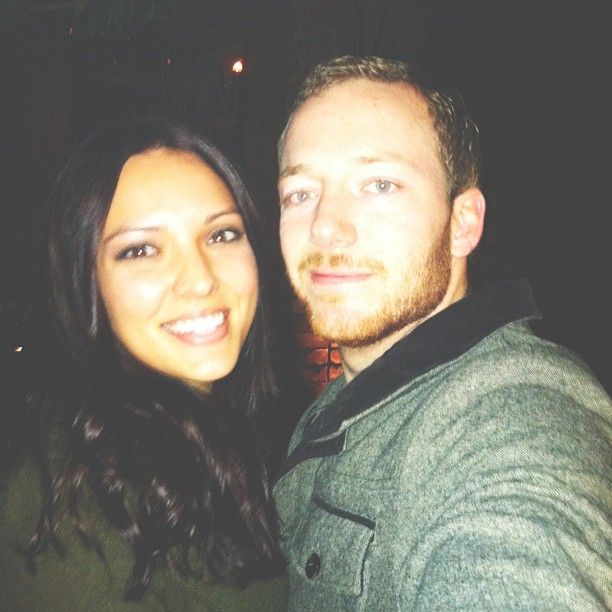 I love him so much. And sometimes marriage is hard, and a lot of times there are rough patches to go through, and when they happen, they can cut you down to size and leave you feeling helpless and dark.
But Dale? I have no idea where he came from or what I did to deserve him...but I scored. and I scored big. This ginger-headed man of mine has saved me in so many ways it's unfathomable, and I would be a different person without him.
And at the end of a long day, after work is over and dinner is eaten and I get to relax while the man does the dishes, I sometimes get to witness little glimpses of my silly, simple life from the outside.
And I fall in love with my little family, and I fall hard.
This is what my life is all about.