There is just something about insanely large amounts of food that are impossible to consume in one sitting that drag men into their dangerous web.
So it is with The Kitchen Sink at one of our very favorite ice cream places around here, The San Francisco Creamery. The ice cream here isn't that crappy thin stuff you get at regular places. This stuff is THICK and creamy. Like, so thick it could be a face cream....a delicious face cream at that. The kid scoop alone is about as big as a softball and as heavy as double double heavy cream.
Holy it's delicious. But hard to eat a lot of.
The Kitchen Sink encompasses all of 8 huuuuuge scoops of ice cream (we're talking double softball size here), 8 toppings, 3 whole bananas, nuts, cherries and mounds and mounds of whipped cream. In an actual Kitchen Sink. For $40 freaking dollars.
They're not messing around.
It's actually even famous! It has made it's debut on TV when Man VS. Food attempted it. The challenge is to finish it before the current record time, and if you finish before the cut off and haven't puked yet, you get the ice cream for free PLUS free ice cream for a year. It's quite the deal.
And anyway, Dale being the ice cream addict that he is, has been eyeing the Kitchen Sink challenge for 2 years now. Last year he decided he wanted to try and conquer it for his birthday this year while friends cheered him on. And if you don't know Dale, just know that ever since that decision, he has been researching and plotting and scheming to the best of his accountant-fied logical brain on how to finish victorious. He's quite a tenacious guy, you know?
So that's what we did.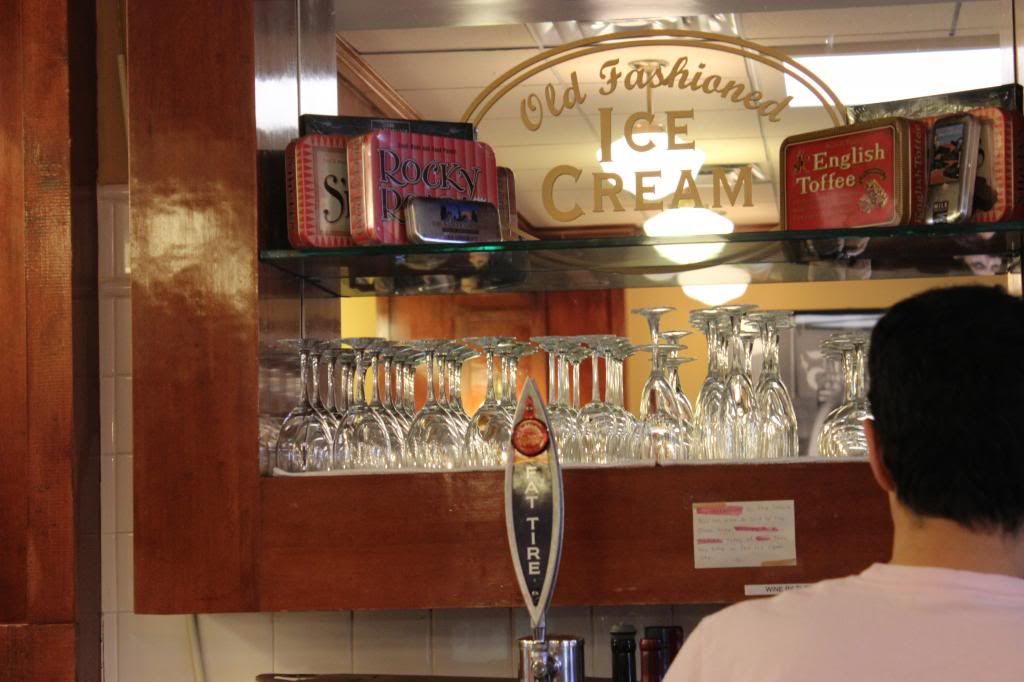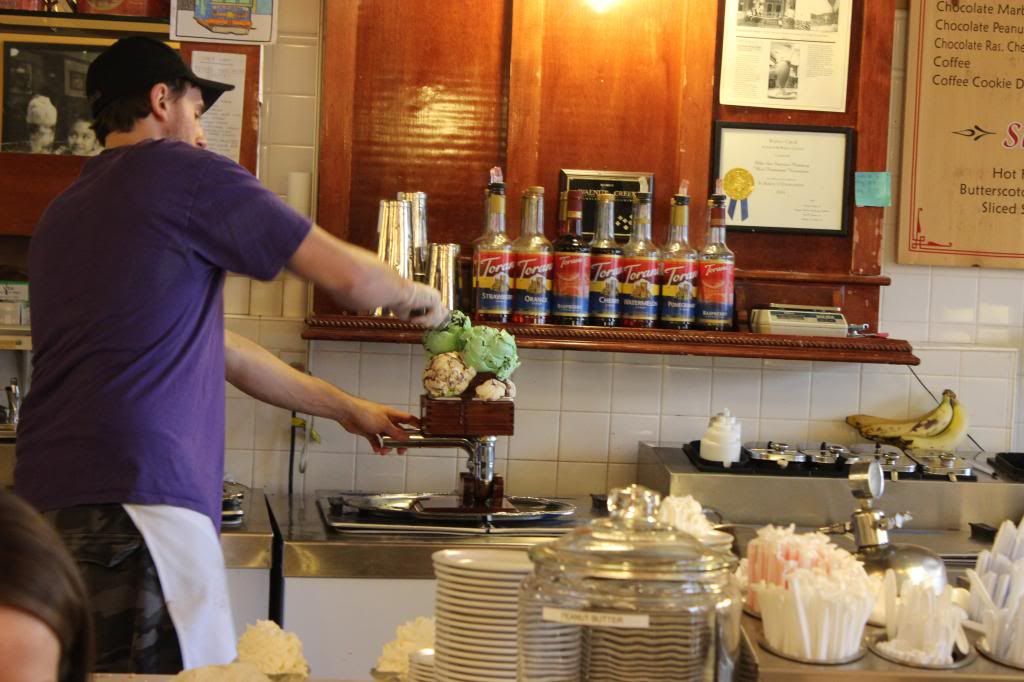 One of our good friends decided to attempt it as well as a birthday present to Dale, and Dale was so pumped that someone was doing it with him.
And they even got some huge shovel spoons. See?
So Dale and Mike cheered with their spoons and starting stuffing their faces as fast as they possibly could.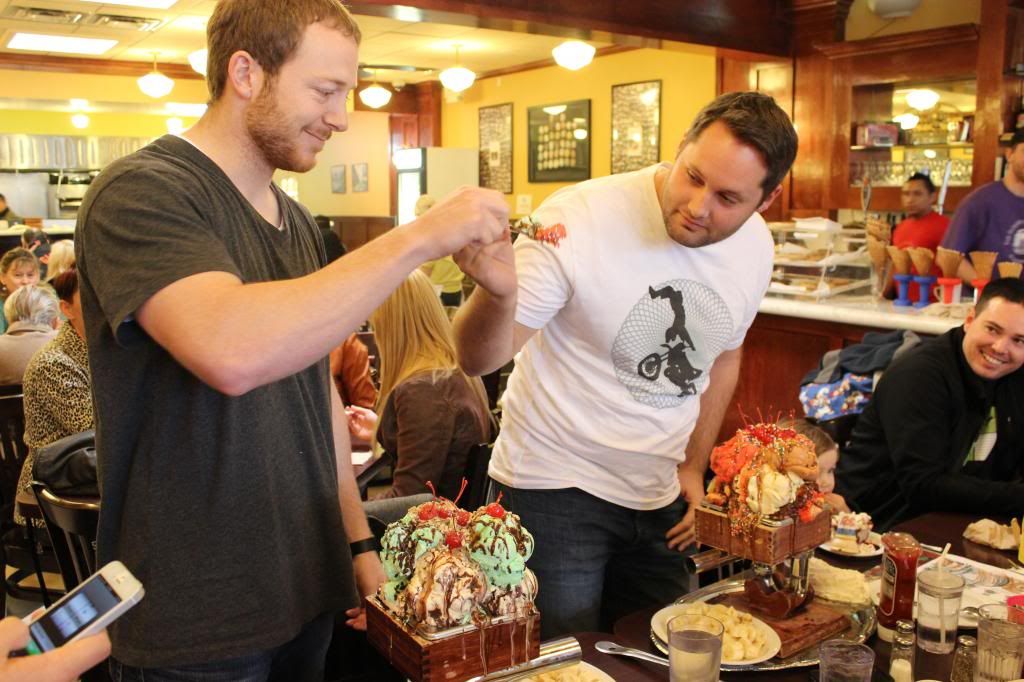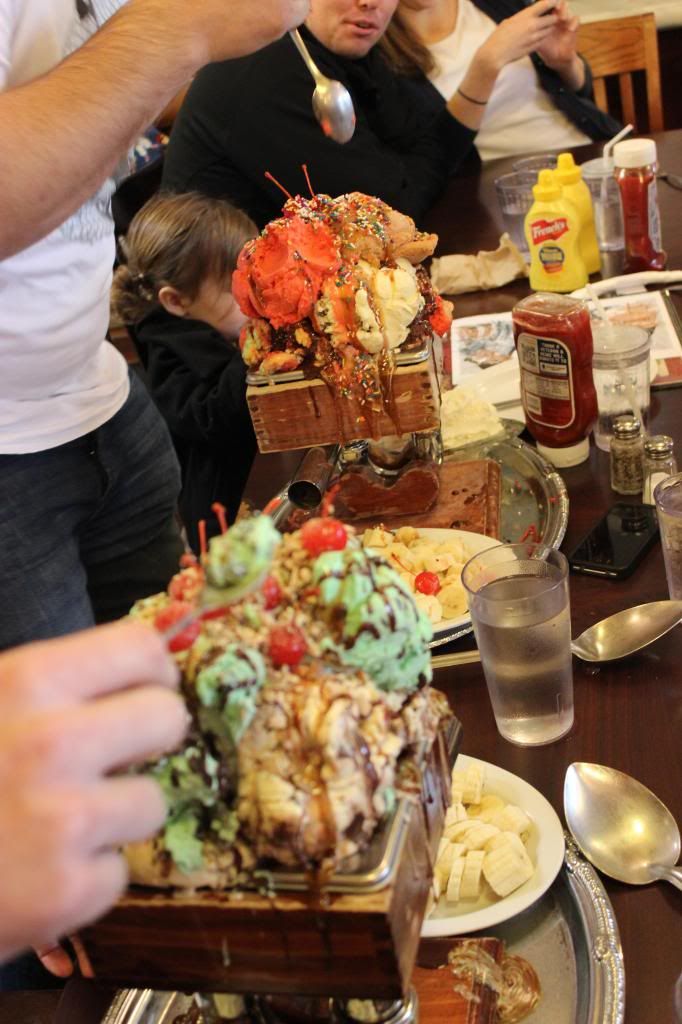 The current record for the reset year was 30 minutes, and by 15, they had finished not even half and were both about to puke. Didn't even come close.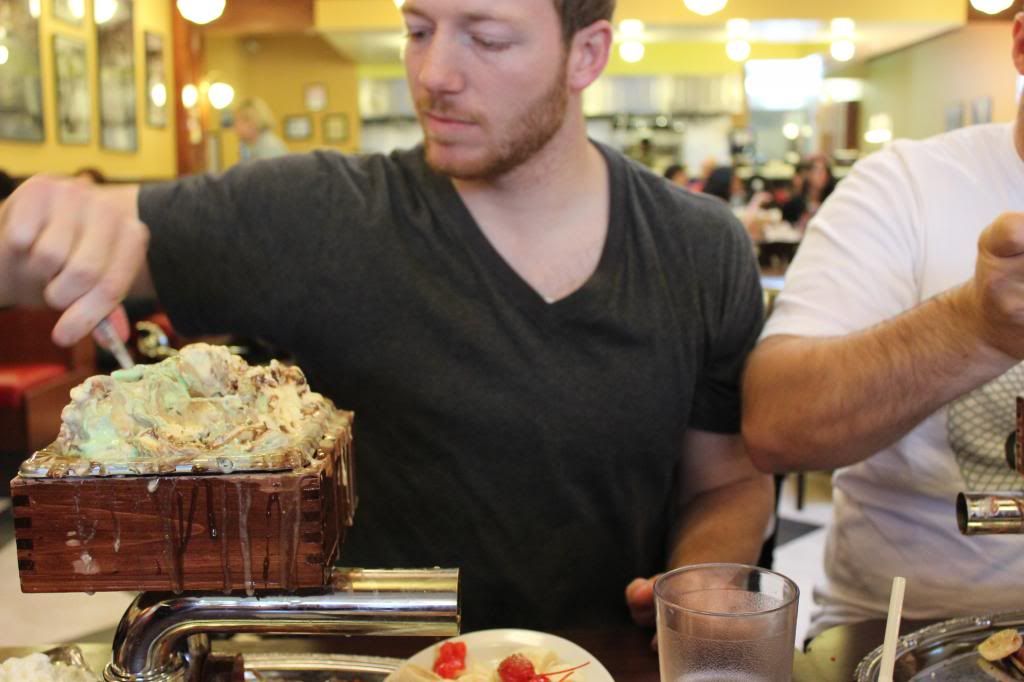 Pretty sad right? Dale thought it was so much fun though. We had a lot of our friends there and it was crazy and loud and funny. Unfortunately I didn't get any pictures of my cute friends who came. Lame. I need to get better at documenting the awesome people I know.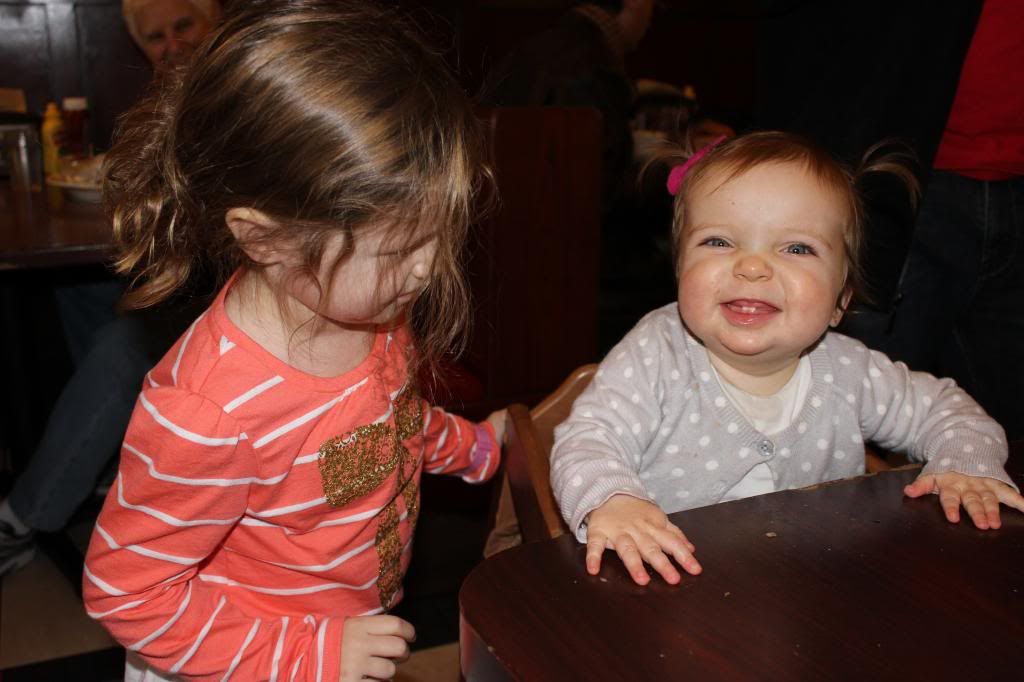 But I did get the most adorable picture of these two cuties. Ellie is Vivian's most favorite little kid, hands down. Ellie can get Viv to laugh and give the cheesiest, biggest smile more than anyone can. She loves that girl.
Anyway, happy pre-birthday to my main squeeze. He's 27 tomorrow. Twenty freaking seven!
I love that patient, goofy, thoughtful and romantic man. He is the best dad and best husband I could ever imagine for myself. I am a lucky girl to have him in my life.
(ps: he hates his birthday being noticed. soooooo if you know him, try to embarrass him at all costs tomorrow.)