So, it's taken me a while to write this part because it feels pretty close to home. As in it's still happening to me. Like, right now.
This post is going to be a bluntly honest, probably pessimistic, scare-the-shit-out-of-you post in which I expose all of my deepest darkest secrets and tell you all about my talks with the psychiatrist I visit.
Kidding.
But really, I'm gonna get into this. So bear with me. I'm a heinously honest person.
pre-disclaimer: Sometimes, I bear my soul a little too much. Maybe more than you ever wanted to know. But in this post, I am being especially honest and open because I really want people to know that they are not alone in the way that they feel if they go through the same stuff I did. I want to talk about things that people won't talk about--because when I didn't know all of this stuff, when it happened to me, I was hit hard. And I just wanted someone to be real with me about it.
So here's me. Being real.
Don't read on unless you're ready. Also...this is really too long.
Dale and I were so excited to have the baby. Of course we were nervous, and of course we wondered if we were ready. Sometimes we wished it could just be us again and sometimes we felt a little trapped.
But, I would say those feelings are normal and expected. We tried to prepare as much as we could for the baby, but if you've had a baby, you know that no matter how many books you read, how much advice you hear, how many classes you take, NONE of those will get you ready for what a baby shoves your way. And whoa can it throw you for a loop.
I am a major rule-follower. If something is laid out for me, I get to the point of being obsessive about getting it exactly right. I guess you could say I'm a perfectionist, but i'm not sure if that's exactly right either. I like to have things done exactly the way they are supposed to be. I really have to work on letting my own creativity wriggle it's way into things that I do, because I just follow instructions to the letter.
Along with that, I really like to know ahead of time exactly what to expect. It was extremely hard for me to not know exactly what to do when the baby came. I mean, when I was pretty far along in my pregnancy, I was lining out feeding and sleeping schedules that we would adhere to once the baby came. To the minute. It freaks me out to go into the unknown with no knowledge of what's going to happen. I have to know every avenue and every possibility, and then I find ways that other people do things and I try to copy the ones that I like.
I guess you could say that change is not my friend.
Anyway, the point I'm trying to get across is this: I hate change. But sometimes I don't realize it until it's happening and there's nothing I can do about it. I have seen that multiple times in my life, most recently: Getting married, moving to California, and having a baby. All of which were extremely hard and emotionally taxing for me for a long time. Where some of you might welcome change and thrive on it, I don't. At least not at first.
So. The first three weeks after having a baby were bliss. Part of that was because my mom was staying with us for some of it, but I really thought I was getting the hang of things. Nursing was easy(ish), my recovery was easy, our baby was cute, a good eater and a good sleeper (kind of). I was even naive enough to think I was starting to get her onto a semi-schedule (because the book said I could!). I took a shower and got full-on ready every single day waaaay before noon. I just really though I had a handle on this mom stuff. It wasn't as hard as everyone had said.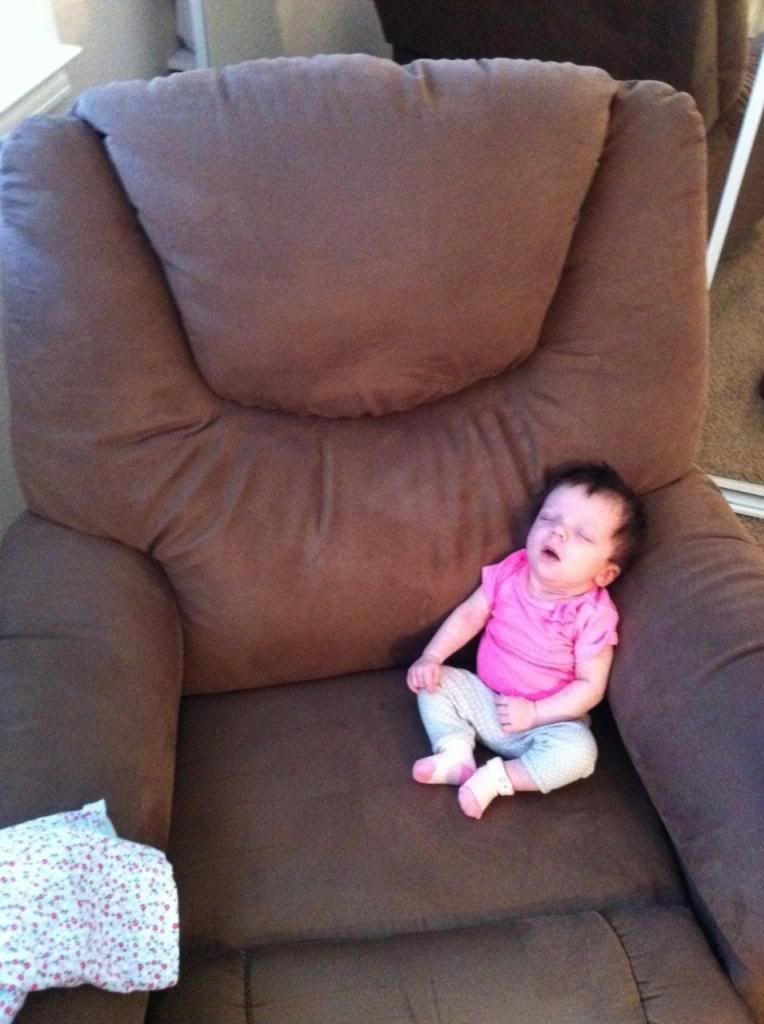 And then the screaming 24/7 started. Right around three weeks, Viv started having problems. She started choking and throwing up, literally puking across the room multiple times a day. She would eat for 5 minutes and pull off screaming and refused to eat again. She would literally scream 8 hours of the day and refused to sleep unless we were practically jumping up and down, pounding her back and doing all sorts of crazy things. She screamed (I mean ear-splitting, high-pitched, in-pain scream) like, the majority of my days and nights. We had no idea what to do.
People were really quick about telling us that she was colicky and to try a million different remedies, but I just knew it wasn't colic (plus, we were desperate and tried
everything
but nothing even put a dent in it). She wouldn't eat, and because my brain is rule-wired, I wasn't ok with her not eating for eight hours straight. My mom-drive just wouldn't let her
not
eat. This would go on for days. I would call my pediatrician demanding that he check her out, but when we would go in, she would be happy and had gained the appropriate amount of weight. He told me she was fine and that nothing was wrong because her weight gain was fine. He told me that I was a first time mom (duh. As if I didn't feel stupid enough) and that babies just do this kind of thing. What I really wanted to tell him was that he didn't see how hard I worked to get her to eat just a tiny bit! This cannot be normal. This just can't be how it's supposed to be!! But instead, I just smiled and nodded and then went home frustrated and defeated and confused and sad.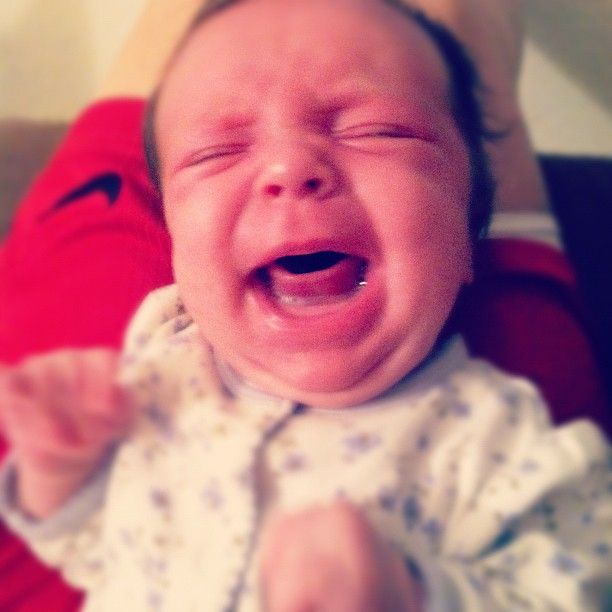 But I really did feel like something else was wrong. I felt like my quality of life was worse than the worst kind of hell. I talked to family members, trying to get ideas of what I could do, but in the end, nobody really knew what to say. Nobody could really help me because I didn't even know what was going on. I felt so terrible that my so called "motherly instincts" were supposed to kick in to help me figure out what was wrong with my baby, but they were failing me, and I felt stupid and worthless and like the worst kind of mom. I would struggle to make Vivian eat so she could get some kind of sustenance, and after two hours of working at it and her screaming the entire time, she would be tired and I would be so stressed that I would leave her in her crib while she screamed, sit in my kitchen, plug my ears and sob.
I was so confused. Is this what motherhood is supposed to be like? Is this my life? I was so hormonal, and I was aware of Postpartum Depression, but everything I read online was about people being sad and depressed. I was
not
sad and depressed. I was angry and negative. I was so freaking mad at everything all the time. I hated my baby. I hated being a mom. I hated Dale because he got to leave every day. I hated everyone who tried to help me because they just didn't understand. I hate my body and I hated myself for feeling so much anger and hate towards my baby. I wasn't depressed. I was the worst kind of pissed off.
There was not a day for at least the first 2 months that I didn't either break down into a huge emotional sobbing wreck while my baby screamed her head off, or that I snapped and would go around throwing things in my house, hitting doors and breaking things while I full-out yelled at my crying 1 month old child. Honestly, I think I broke a couple of my toes.
(are you freaked out yet? I'm like super embarrassed at how I handled the situation and that I'm telling you about it, but while I was in it, I was feeling really rational about kicking the wall and breaking my toes.)
People would tell me that around four months, it gets better. That maybe I just needed to hold on. People would tell me that they knew what I was going through. People would act like my crying baby was normal and that I was just a new mom that didn't know what she was doing. People would say that dealing with the crying is hard, but it's so worth it. And I just didn't get it. I kept thinking,
someone please explain to me how this is worth it! I can't grasp this! This screaming hellion of a child is not worth it!
I don't remember any good moments! It wasn't "rewarding'. I just didn't understand, and I hated when people would say that kind of stuff, because to me, it just was not worth it.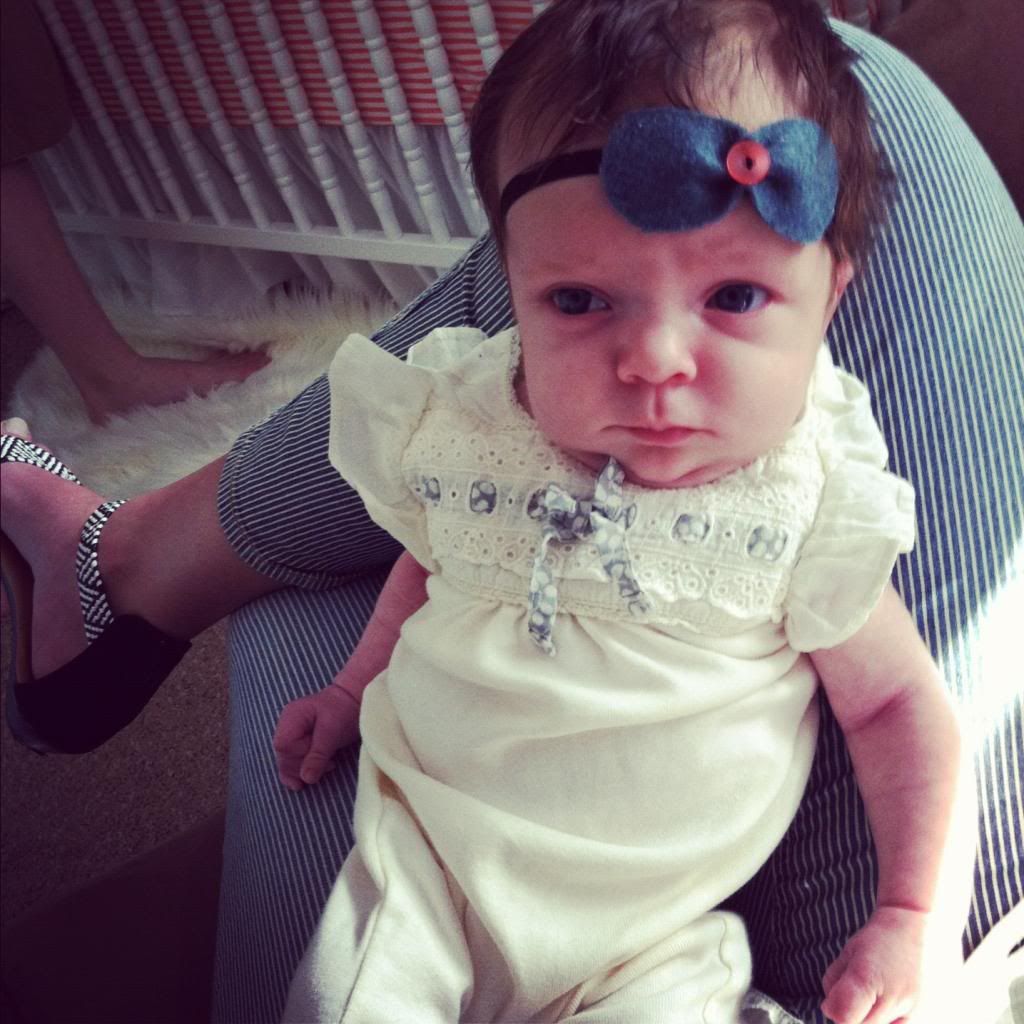 Friends and family would ask me how I was doing, and I would reply with the most negative answers I could. I hated it, and I wasn't afraid to say it. I think that people thought I was crazy...kind of like when you ask people how they are in passing and they respond with a huge, negative comment. That's how I was. And even while I
knew
I was being so overly, embarrassingly negative, I really really felt that way. I really hated it, and I honestly didn't feel bad that I hated it, but I felt guilty that I didn't care. I knew I was supposed to care that I hated it, but I didn't care. And that guilt was just so heavy. I was so embarrassed that I wasn't handling it. I wanted to be a mom so bad and I wanted to love my baby so bad, and I wanted to be the best at it. I wanted to have those sweet moments while nursing or playing that you just felt so much overwhelming love for your baby you just melted.
But there was no melting involved at my house. I think I put on a good face about my situation, but it was really fake and I'm not sure I fooled anyone. I just didn't understand why people were so in love with having babies. I just didn't want to do it anymore, and I felt trapped.
I remember in that first month that I seriously contemplated leaving her on a doorstep somewhere, taking all of my stuff and moving somewhere far away. I wouldn't tell anybody, not even Dale. I would just leave, start a new life and be gone forever. I wanted that so bad, and I had fantasies almost every day of doing that
(creepy, right? But again, in my "super rational" state, it sounded like a legitimate idea).
I was a wreck. I wasn't rational, I was a terrible mother, and I was so stressed out. My life had completely changed, I felt like my body was ruined, and for some reason that I just couldn't understand, Dale loved our baby and could calm her down when I couldn't.
Obviously the stress in our house was like nothing we'd ever felt before. So you can imagine how that impacted our relationship. Looking back now, I feel so bad for Dale because I know that he was at a loss of what to do. He tells me that he never wanted to come home from work because he just never knew what he would be coming home to. I was a crazy woman. Most days, he would get home and I would roughly shove a screaming baby into his arms and storm out the door. I usually just drove in my car with some really hard music turned up really loud and bawled my eyes out. It wasn't pretty.
He couldn't talk sense into me because I was irrational. I snapped at him constantly and as a result, made him stressed and worried and mad. I envied him for going to work every day. I envied that he got all of this adoration and praise for his new baby girl that looked exactly like him while I slaved away all day with poop and spit up and a screaming baby sound ringing in my ears. I envied that he got to leave the house and I was stuck here and this was my life from here on out.
We fought constantly and though I didn't care one bit about how he felt then, I know that we both knew that something had to change, because this just wasn't healthy.
Long story short, eventually I convinced my pediatritian to listen to me. We got some medicine that helped a little and then we went to a specialist to figure out why Viv wasn't eating. And then we learned that she was allergic to soy and dairy and had GERD (really bad acid reflux).
Well, that opened up another whole can of worms, but I won't get into it. Eventually, we figured out what was wrong with the babe, and we fixed it. Eventually. We found the most expensive, processed formula on the market that you could only special order from a pharmacy, and we put that guzzling babe on it. AND HALLELUJAH
After 3 months of hell, my life started getting back to normal.
As my baby got better, her real self started to shine through, and I think my postpartum hormones started to fade a little. I saw a little of her cute personality. I saw her funny little quirks. I started to find a tiny bit of joy in being a mom.
Four months got even better. She started really growing. She started eating solids. And although we had to be extra careful about what we fed her, she started thriving.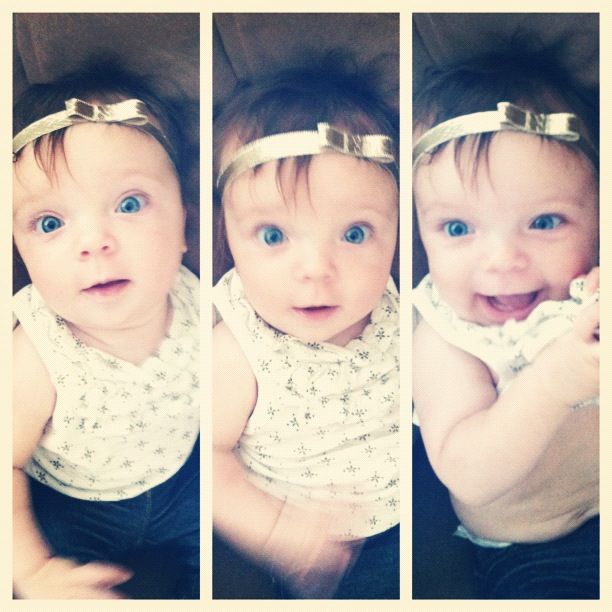 By five months, I classified her as a happy baby, and I was in heaven. She started sleeping through the night. She was happy and smiley and easy. I started to think that, ya, maybe I really can learn to love this whole motherhood thing.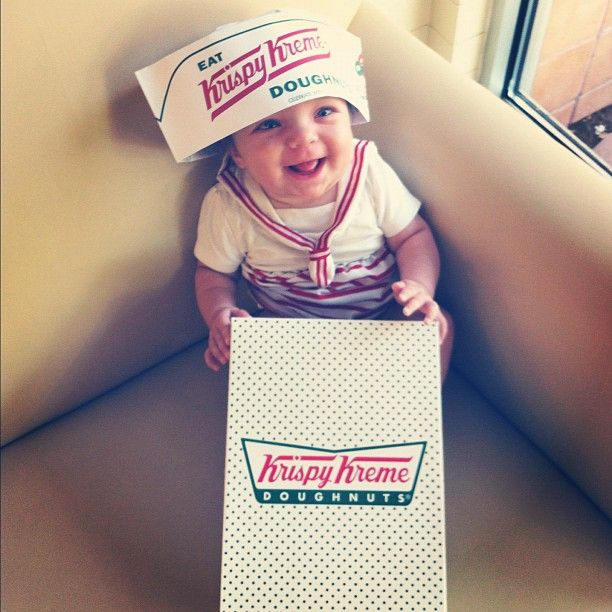 At six months, I looked back at the past six months and realized that it was a blur of hormones and craziness. I felt like at six months, a hazy cloud had been lifted from my eyes and I could actually see what was around me. I couldn't really understand everything that had happened in the last six months, because I couldn't really make sense of it. I had felt really confused and it was all just kind of hazy. But I finally felt like myself. I could honestly say that I was
happy
; something that I couldn't honestly say before.
I actually loved being a mom.
With loving being a mom, came loving being married again. That hazy cloud of hormones that had made everything so non-committal and blurry was gone and I could see how much of a rock my sweet husband had been for me. We had a really rocky time the last six months. But he had always been there, helping, encouraging, helping, helping and helping. He had praised me, complimented me, worked so hard to restore my love of self and of my body. He helped me to see all the sweet moments in Vivian's life and always reminded me of what was most important.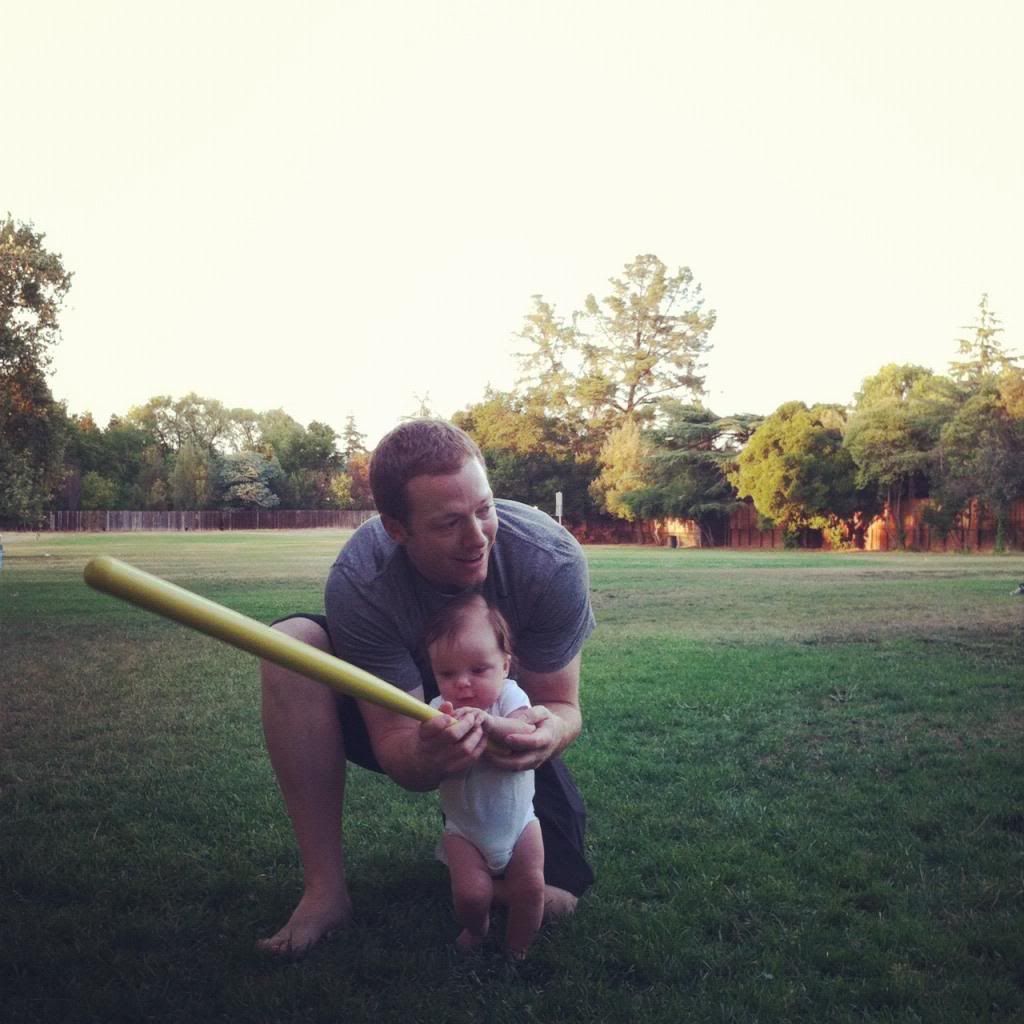 Now, I won't say that marriage is the same wonderful, blissful, lovey-dovey thing that it once was for us. We still struggle with things, just like everyone does. Keeping your marriage in the forefront of your mind is ridiculously hard with some other tiny little human sucking your thoughts every second of the day. I'm learning that it takes effort to do little things for him. Usually, the only time I have to even think about doing something extra special for him that requires time is at night once we put the baby to bed, and then I'm just so tired of doing things for other people. I just want to sit on my couch and watch TV all night long. But alas, I can't even do that because the dishes need to be done, and so does the laundry, and there's usually still something that looks like old banana in my hair that needs to be washed, and I haven't even taken a shower in three days.
So, because I'm in the thick of figuring this whole "marriage after a baby" thing out, I'm still learning and can't give you any advice in that arena. The only thing I know, is that you can only do what you can do. As women, it's in our nature to always want to be better. To always do better and be a better person. I know that I always want to be perfect in every aspect of my life. But once I had a baby, The hardest thing was realizing that doing that was impossible. Some things are just out of reach for a while. I realized that sometimes, you can only do what you can do.
And really, I think it
again
comes down to comparing. Women compare themselves. And I couldn't be the new mom who dressed her kid in all the latest styles while being dressed in the latest fashion and be able to wear a bikini and go to the gym every day and manage to have dinner on the table and host parties with friends and take little thank you gifts to everyone. Some of my friends that had babies around the same time as me weren't going through the same things as I was. Their babies were good. And mine wasn't. And I felt like I was doing something wrong.
But, I just couldn't do it all. I had to focus on myself. I had to get through whatever was happening to me. And although I never thought that I would feel normal again or that I would ever have a normal life again, it happened...eventually. Every so often, another little aspect of my life would become normal again. Once I had a handle on one thing, I felt like I could start working on something else. And so it went.
I also learned that sometimes, you just need help. Sometimes, you just need to take people up on their offers to bring you dinner or watch your baby so you can go shopping or to the gym. Or just sleep. Sometimes, you just need to graciously accept someone else's service.
I learned to take people at face value. Because we don't have any family anywhere close, we relied heavily on our amazing friends and the people in our church.. When people offered, I took. I usually am a "do it myself" person and I refuse to admit that I need help. But with my situation and my hellish baby, I couldn't do it. I physically, mentally or emotionally could
not
do it alone. My lifesavers were those friends who kindly turned their face from my crazy person self, and brought me dinner, asked to hang out, and told me they were taking my baby so I could go do something for myself. I learned that when you want to help someone, never ask
"let me know what I can do"
, because for people like me, I will never just say,
"hey, I'm having an emotional break down, can you please help asap?"
. Instead, my wonderful saving angels here would say
"hey, I need you to bring your baby to my house today so I can watch her. Also, go eat some cheese fries"
. And that was a lot easier to say yes to.
Basically, that first 3 or 4 months were the worst (
read: understatement of the year)
. I was the worst wife. I was the worst mom. and I was the worst friend. But now that the hazy cloud of confusion is out of the way, I feel so grateful for the selfless people in my life that knew exactly when to call, what to say, when to help and when to be there.
As for marriage after a baby? Well, it's a work in progress.
Isn't it always?
post-disclaimer: If you don't have a baby, PLEASE understand that not all post-baby-ness is like this. Some babies really are just great babies, and some people aren't a crazy hormonal like me. BUT that doesn't mean that adjusting to motherhood isn't very difficult in one way or another. This is just the way that it was difficult for me, and although it may seem a little crazy and terrible and over the top, it is entirely true. So now you know. Please don't be afraid of having babies! They really are worth it!
post-post-disclaimer: How's that uber-deepness for a Monday? Can you say embarrassed much? Sorry much.